Breastfeeding Tips Galore!
Add your tip and make life a little easier for other moms!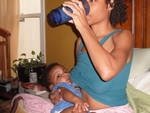 Breast feeding tips come a dime a dozen. Everyone has one.
Even those who have never breastfed! And you can imagine what their tip is: "You should stop breastfeeding" or "Just give him formula".
No breastfeeding mother wants to hear that! Especially a new one.
So I'm calling all breastfeeding moms, no matter how long you breastfed, to give your favorite tip.
Maybe it was a tip someone gave you, or something you figured out from experience.
What made life easier for you as a breastfeeding mom?
Here are a few tips that I've learned along the way:
• Nurse with a cup of water or some type of liquid next to you. (For some reason I get really thirsty when nursing my baby. Maybe it's from hearing him gulp down milk!)
• Go bra-less sometimes, or shirt-less if you're at home! (This gives you and your baby quick access to your breast without the hassle of a bra)
• Pump one breast while nursing your baby on the other if you're trying to store milk. This makes it so easy to pump because your baby can stimulate your let down a lot faster than a pump and you're killing two birds with one stone; saving milk and feeding your baby at the same time!
Now it's your turn.
Do you have a tip telling how to respond to negative comments?
What about a tip telling how to get through those first weeks of learning to breastfeed?
The world is waiting to hear your most coveted breast feeding tips!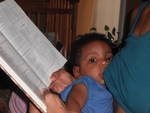 What made life easier for you while breastfeeding?
We all want to know what someone else is doing to make life a little easier. Especially when it comes to taking care of babies. So share your breastfeeding tip with everyone!
What Other Visitors Have Said
Click below to see contributions from other visitors to this page...

---
Return from Breastfeeding Tips to Breastfeeding Gallery

Return from Breastfeeding Tips to Breastfeeding Issues and Solutions