Things to Know About
Breastfeeding Bras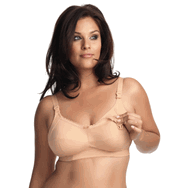 You can wear all the breastfeeding shirts and breastfeeding dresses you want in order to make it easier for you to nurse your baby in public.
But if you don't wear breastfeeding bras, it can be a pain in the neck trying to reposition your breast back into your regular bra after you've finished nursing your baby.
Because with nursing bras, you don't have to take your whole breast out of your bra in order to nurse your baby. There is a little clip near the front of the strap that you can unclip, pulling down only the front part of the bra, exposing only the front of your breast where your baby needs to nurse.
If you wear a bra (some women don't), and want to nurse your baby in public, get a couple of breastfeeding bras. They significantly reduce the hassle associated with breastfeeding in public.
You can find all types of breastfeeding bras, from sexy to large size nursing bras.
They even have strapless nursing bras for your strapless nursing tops!

Medela

even has their own brand of nursing bras.
But before you run out and buy a nursing bra, here are a few tips to help you along the way:
• If you're used to wearing an underwire bra, it's best to find a nursing bra without underwire. Why? Because the underwire could press against your milk ducts, causing you to possibly get a breast infection because your milk is unable to flow freely.
If you just have to have an underwire bra, at least wait until your baby is one month old. That way your body is used to producing milk for your baby, and your chances of becoming engorged and getting clogged milk ducts are lowered.
• Buy a nursing bra after your regular bra starts feeling uncomfortable.
• Know the return policy. You will definitely want to try on your bra before wearing it out, because the size you wore before you got pregnant, isn't the same size you wear now. And if your new bra doesn't fit, you want to be able to return or exchange it.
When you're trying your bra on, make sure you can unhook the flaps with one hand and re-hook it back fairly easy. Once you start breastfeeding your baby out in public with a nursing bra on, you'll get plenty of practice doing this.
• Buy several breastfeeding bras. Especially if you plan on nursing your baby for several months. Nursing bras get dirty too, so if you only have one, it may not be clean enough to wear when you're ready to wear it.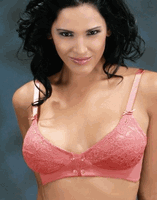 • Buy at least one sexy nursing bra. Or at least one that you think is cute! Treat yourself! Whoever said you couldn't be a mom and sexy at the same time, lied to you.
• And last, but maybe the most important--Don't wear a bra all day long. When you're at home, let your breasts hang free! Give them a break. It feels so good!
At the end of it all, choosing a comfortable nursing bra is the same as choosing a regular bra. Except for now you're more voluptuous than ever before!
Click here
for a variety of breastfeeding bras to choose from!
---
Return from Breastfeeding Bras to Breastfeeding In Public

Return from Breastfeeding Bras to Breastfeeding Issues and Solutions